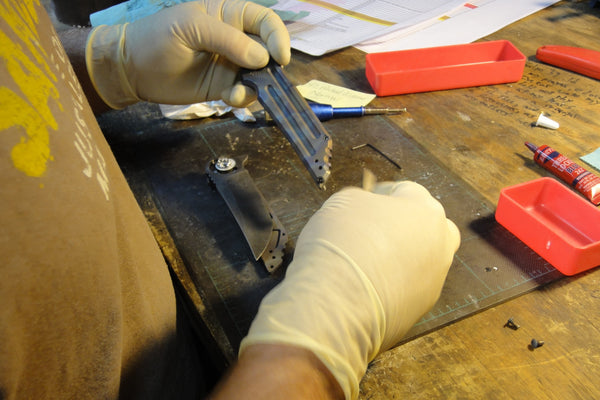 Knife Service Package
Your knife may need a good tune-up!
Our Knife Service Package includes a full cleaning, oiling, sharpening, blade centering, and SMALL lock adjustments if needed (all lock adjustments are made according to our specifications on locks and lockup).
All knives will be shipped via USPS and insured for $500 when returned.
We do not change colors or finishes.
If your knife has a mechanical problem within warranty guidelines, please contact us and do not purchase this service unless advised.
Please follow this process to send your knife in for its tune-up:
Describe Any Problems -- Include a note in your package with a description of what needs to be corrected with your knife.  Include your name, return address, phone number and email address.
Knife Prep -- Before you ship your knife, please make sure you have cleaned it thoroughly.
Packaging -- Please put each cleaned knife in a sheath or wrap it in cardboard to protect it during shipping. We prefer that you pack your knife in a box. A padded envelope may also work if the knife isn't too heavy or bulky. Be sure to put packing around the knife so it sits securely in the package. Pack it so the point will not cut through the packaging. You will get your sheath or cardboard back upon return.
Insurance -- We recommend that you insure your package and send it "certified, return receipt requested," so it can be tracked if necessary. This will help protect you against possible loss or damage to your knife. Note that knife loss, including shipping to and from us, is not covered under warranty.
Shipping -- Ship your knife to Jake Hoback Knives, P.O. Box 873, Priest River, Idaho 83856, United States of America.
Wait Time -- Please expect to wait 3-4 weeks for the return of your knife.