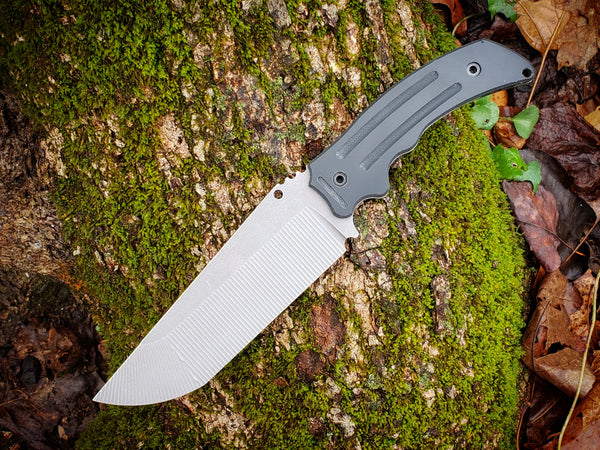 Perseverance
Notify me when back in stock.
The Perseverance
Available through these outstanding dealers!
Blade HQ
DLT Trading
Edgeworks Knife & Supply
Gonzo Tactical
Kitonlineknife (Taiwan)
KnifeCenter
Lamnia (Finland)
Northwest Knives
River's Edge Cutlery
Sawyer River Knife & Trading Company
Warriors & Wonders (Canada)
White Mountain Knives
I always wanted to make a good fighting-style knife that had traits from some of the well-known fighters from an earlier time.  I first made this knife in 2009.  It has been a great seller, and I'm very happy to re-introduce it to the market in a new version that will please the knife collector as well as the knife user.
An inline point naturally aims for thrusting type movements and the wide 6" long blade will work well for many different applications -- from WWII trench fighting to field work splitting kindling for a fire.

For a clip to attach the Perseverance's sheath to a belt, check out Discreet Carry Concepts or Tek Lok.

SPECIFICATIONS
Blade: .1875" Thick, CPM-3V
Handle: .1875" Thick, Black G10
Overall Length: 11.125"
Blade Length: 6"
Handle Length: 5"
Weight: 14oz., 17.6 oz. w/ Sheath
Carry Option: Multi
Other Features:
Multi-Grind Bevels
Stonewash Finish
Kydex Sheath (Multi-Carry)
Rear Lanyard Hole
Forward/Rear Jimping
Made in China by Bestech from domestic and imported parts.