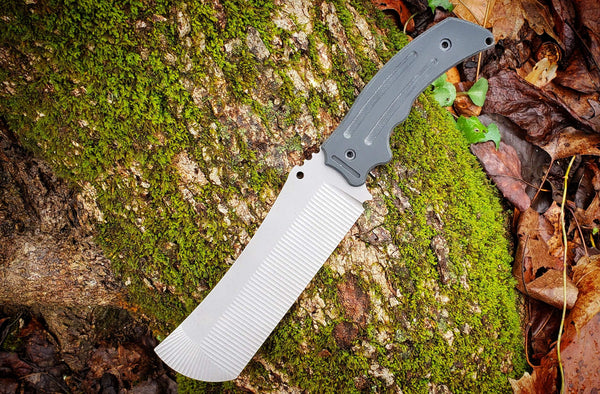 MP6
Notify me when back in stock.
The MP6
Available through these outstanding dealers!
Blade HQ
DLT Trading
Edgeworks Knife & Supply
Gonzo Tactical
Kitonlineknife (Taiwan)
KnifeCenter
Lamnia (Finland)
Northwest Knives
River's Edge Cutlery
Sawyer River Knife & Trading Company
Warriors & Wonders (Canada)
White Mountain Knives
The MP6 is one of a series of fixed blade work horse knives, originally designed for breaching interior doors for assaulters of a team working with homeland security. We designed this knife to be as strong as possible while still allowing ease of use and carry. Varying lengths of blade and multiple sheath attachment points allow this knife to be belt carried or added to a loadout kit for a breaching team.

We have found through the years that our signature Japanese-inspired tanto tips had a great many uses in the field, so we redesigned that tip to provide a lower secondary cutting point, but we made it blunted to allow for an extremely strong tip-up top.
Custom versions of this knife have been used since 2009 by SWAT/LEO/DOD/DHS/MIL teams in battle theaters all over the world.
For a clip to attach the MP6's sheath to a belt, check out Discreet Carry Concepts or Tek Lok.
SPECIFICATIONS
Blade: .1875" Thick, CPM-3V
Handle: .1875" Thick, Black G10
Overall Length: 11.125"
Blade Length: 6"
Handle Length: 5"
Weight: 14 oz., 18.1 oz. w/ Sheath
Carry Option: Multi
Other Features:
Multi-Grind Bevels
Stonewash Finish
Kydex Sheath (Multi-Carry)
Rear/Forward Lanyard Holes
Forward/Rear Jimping
Made in China by Bestech from domestic and imported parts.