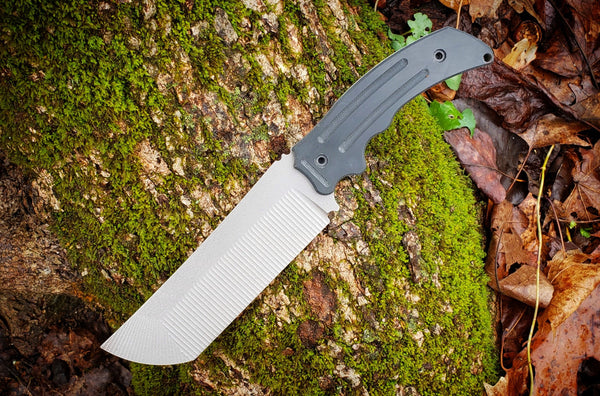 Choppa
Notify me when back in stock.
The Choppa
Available through these outstanding dealers!
Blade HQ
DLT Trading
Edgeworks Knife & Supply
Gonzo Tactical
Kitonlineknife (Taiwan)
KnifeCenter
Lamnia (Finland)
Northwest Knives
River's Edge Cutlery
Sawyer River Knife & Trading Company
Warriors & Wonders (Canada)
White Mountain Knives
The Choppa is the original knife that started it all for Hoback Knives.  My original Choppa was a 10" blade version.  The first one made was way back in 2003!!!  (Man, do I feel old now!)

I designed the blade shape and handle to work for me while I worked at Fish and Wildlife in field work.  It is a true working man's knife -- big, beefy, and made to be put to work. Forward and rear lanyard holes allow great security while using the knife and also allow lashing the knife to a short haft to make a impromptu axe or spear.
Custom versions of this knife have been used since 2003 by SWAT/LEO/DOD/DHS/MIL teams in battle theaters all over the world, also in the hands of civilians collectors.
For a clip to attach the Choppa's sheath to a belt, check out Discreet Carry Concepts or Tek Lok.
SPECIFICATIONS
Blade: .1875" Thick, CPM-3V
Handle: .1875" Thick, Black G10
Overall Length: 11.125"
Blade Length: 6"
Handle Length: 5"
Weight: 14 oz., 18 oz. w/ Sheath
Carry Option: Multi
Other Features:
Multi-Grind Bevels
Stonewash Finish
Kydex Sheath (Multi-Carry)
Rear/Forward Lanyard Holes
Forward/Rear Jimping
* Color and finish may vary from images shown.
Made in both the USA and China by Bestech from domestic and imported parts.